Swing doors have a long tradition in both the catering sector and interior store design. We have set out to re-interpret swing doors and turn them into striking interior design features. These doors – just as all Grothaus swing doors – are made to measure and are available in a wide range of colours and wood finishes, including, on request, from any laminate producer.
The doors' robust and hard-wearing stainless steel hinges are countersunk flush inside the door leaf. They are very smooth acting and feature a spring tension adjuster.
They are easy to fit into both existing and new buildings, feature a stainless steel profile and can be installed directly into a reveal or an existing wooden frame. Optionally, we also provide stainless steel U-frames.
Our wooden swing doors also make very attractive interior doors inside homes, in particular when used as kitchen doors. Please don't hesitate to get in touch for more information on this.
Opening angle 2 x 90°
Dimensions
Special dimemsions on request
Safety glass 8 mm with stainless steel frame
Safety glass 8 mm with rectangular frame in stainless steel look
Standard design

Colour deviations are technically conditioned.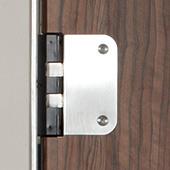 Hinge with or without 90° stop
Black rubber finger protection in door height (optional)
Stainless steel kick plate
Lock
Stainless steel lock with profile cylinder
lockable on both sides
mounted on top of the door leaf
locking into door lintel
mounted laterally on single-leaf door without finger protection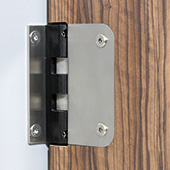 Stainless steel mounting plate for masonry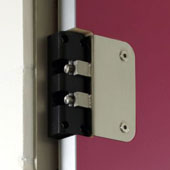 Stainless steel flat profile for masonry or existing frame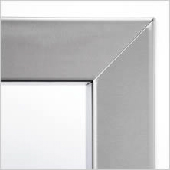 Stainless steel frame for plasterboard