Many commercial establishments, workshops and storage facilities use PVC swing doors with galvanised steel profiles as a matter of principle. They can act as draught protection, screens and room dividers. They are available in a range of different PVC grades and can be fitted with ram protection reinforcements at various heights, all of which make this PVC swing door highly versatile.
The GP110 is easy and quick to fit, is maintenance free and consequently makes a cost-effective alternative to high-speed doors.
Dimensions
Special dimemsions on request
Standard design

Colours
Any colour deviations from the RAL scale are technically conditioned.
Material Options
PVC transparent
PVC transparent and frost-resistant down to -30°C -30°C
PVC reinvorced
PVC transparent combined with coloured fabric insert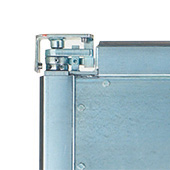 Hinges
spring mechanism encapsulated in profile tube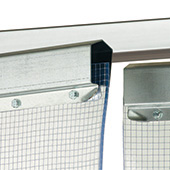 Detail
Easy-to-replace door leaf thanks to screwless, top and side guides imbedded in steel profile