This stainless steel swing door is often used in supermarkets in the doorway separating the meat and fish counter and food preparation area. It is made from the same material that is used for worktops, food slicers and working equipment.
The stainless steel door leaf features a CFC-free foam core and combines a high level of functionality with an attractive look. This door is also suitable for pedestrian traffic in hospitals, commercial kitchens and canteens. It is available with matching stainless steel frames.
Dimensions
Special dimemsions on request
Vision panel
Acrylic glass 400 mm round or 400 x 600 mm oval with black rubber seal, safety glass 400 x 600 mm with rectangular stainless steel frame.
Standard design

Colours
Any colour deviations from the RAL scale are technically conditioned.
Stainless steel or steel sheet in RAL 9002



Stainless steel hinge with or without 90° stop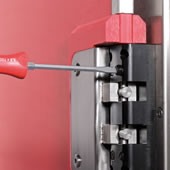 Optional: Hinge adjustable in middle position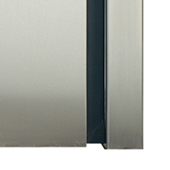 Black rubber finger protection in door height
Lock
Stainless steel lock with profile cylinder
lockable on both sides
mounted on top of the door leaf
locking into door lintel