Innovator
Polyethylene PE 500, 15 mm

We specifically developed this swing door with its 360 degree opening angle for narrow passages between halls and corridors. Its innovative design makes it possible to allow passage through the door even in narrow spaces and when using wide door reveals.
This PE swing door also has all of the specialist features required in food production. It is food-grade, cold and water resistant and extremely hard-wearing. If is suitable for passage by electric pallet trucks and forklifts, including in sharp angles.
The door leaf can also be made to stay open in a number of different positions on request, which can sometimes have a range of benefits in production settings and when cleaning floors.


Dimensions
Special dimemsions on request
Vision panel
Acrylic glass, 15 mm, frameless and flush-fitting: 400 mm round, 400 x 600 mm, 300 x 600 mm, 400 x 950 mm semicircular.
Standard design

Special design on request

Colours
Any colour deviations from the RAL scale are technically conditioned.
Special colours in RAL
Minimum quantities and prices on request. Swing Door Configurator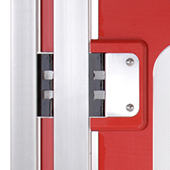 Stainless steel hinge with 360° opening angle, optionally available with 90° and 180° stop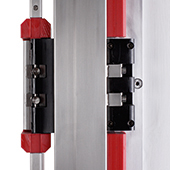 Stainless steel hinge in 180° position for 200 mm wall thickness (hinges for wider walls available on request)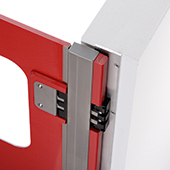 Door anchoring on wall with pre-drilled stainless steel flat profile (stainless steel frames also available)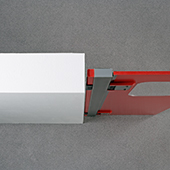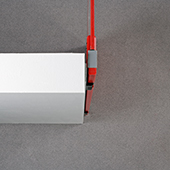 90° opening with integrated stop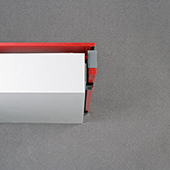 180° opening with integrated stop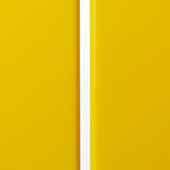 PVC finger protection in door height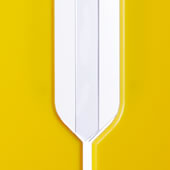 PVC finger protection combined with round edge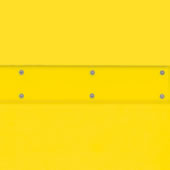 made of 15 mm PE, 200 mm high on both sides, variable installation height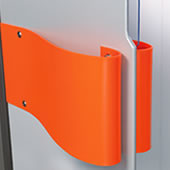 made of 5 mm PE, 200-1200 mm mm high on both sides, variable installation height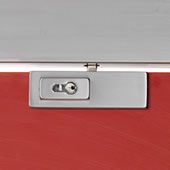 Stainless steel lock with profile cylinder
lockable on both sides
mounted on top of the door leaf
locking into door lintel
mounted laterally on single-leaf door without finger protection