Gateway
Polyethylene PE 500, 15 mm

This PE swing door features helical hinges and has a wide opening angle. It is the perfect door for walls with small door openings and in situations with limited space, and even opens wide enough to allow forklifts to comfortably pass through.
The helical hinges (also called Bommer hinges) are bolted to a stainless steel rail on the door, which adds to these door leaves' strength over their entire length.
Dimensions
Special dimemsions on request
Vision panel
Acrylglas 15 mm rahmenlos und flächenbündig: 400 mm rund, 400 x 600 mm, 300 x 600, 400 x 950 mm halbrund.
Standard design

Special design on request

Colours
Any colour deviations from the RAL scale are technically conditioned.
Special colours in RAL
Minimum quantities and prices on request.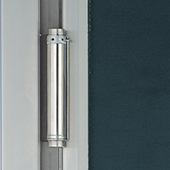 Stainless steel helical hinge, opening angle max. 180° - depending on wall thickness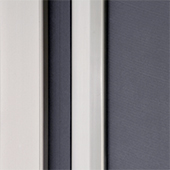 Stainless steel rail for door leaf stabilization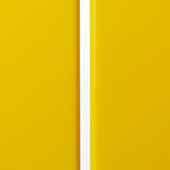 PVC finger protection in door height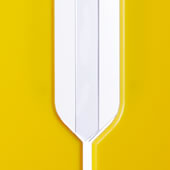 PVC finger protection combined with round edge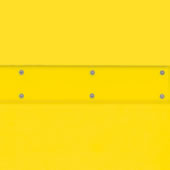 made of 15 mm PE, 200 mm high on both sides, variable installation height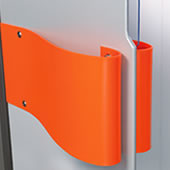 made of 5 mm PE, 200-1200 mm mm high on both sides, variable installation height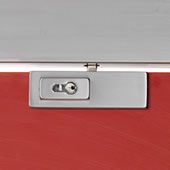 Stainless steel lock with profile cylinder
lockable on both sides
mounted on top of the door leaf
locking into door lintel
mounted laterally on single-leaf door without finger protection